The latest issue of Magazine of the swimming world
is now available for download in the Jumping swimming world!
Non-subscribers can download this issue here
By Shoshanna Rutemiller
Maximus Williamson of North Texas Nadadores (Southlake, TX) is a force to be reckoned with. In July 2021 at the Texas Age Group Championships, he broke the national age group record of 13-14,200 meters freestyle with an incredible 1: 53.26. But the 6-foot-3 youngster isn't defined by this event alone. He is an incredibly diverse swimmer, showing his hand in everything from the 50 freestyle to the 400 IM.
"Don't let him through," says his trainer, Daniel Balint. "He can swim a 3:56 400 IM at the end of practice after already putting 5K in the pool. He's a kid who doesn't know his time, he just wants to swim, run and win.
Williamson, now 15, comes from an elite swimming pedigree. Her mother, Jennifer (née Kurth), swam for Germantown Academy and the University of Michigan, and competed in two Olympic trials. At the 1995 Pan American Games in Argentina, she won bronze in the 400 IM.
"I am in awe of Maximus' patriotism," says Jennifer. "My husband and I both served in the military so he certainly inherited our passion for serving our country. He is intrigued by the work, passion, teamwork and discipline required of our elite special forces, especially the SEALS. "
WHAT IS THE BEST THING YOU DO IN A SWIMMING?
I like the competition. I'm so excited for a good head-to-head race. My best memories so far have come from competing with my friends in training and competitions.
WHAT ARE SOME OF THE HARDEST WORKOUTS / SETS YOU'VE DONE?
I recently swam for a weekend with my mom's former trainer, Coach (Richard) Shoulberg, in Philadelphia. In practice on Saturday we covered 11,400 yards. It was the longest workout I have ever done! I also vividly remember a practice session in the middle of the season when I was 12, and we did 16 x 100 on the 1:05. I didn't think I would do them all, but I did!
WHAT IS YOUR FAVORITE SWIMMING CHOICE?
We give up a lot to be good swimmers. We work really hard and have to put in a lot of time to become great… but we do it with good friends, and when we all swim fast in the last meet of the season, it's worth it. It is the most rewarding aspect of swimming.
WHAT ARE YOU WAITING FOR MOST THIS YEAR?
I would really like to do national cups. I also can't wait to go to my first high school state reunion in February.
WHO IS A PERSON YOU RESPECT IN SWIMMING… AND WHY?
I really admire my teammate and best friend, Mason Edmund. He is the hardest worker, both in and out of the pool. He trains extremely hard. He is an excellent student, and in his spare time he has a job to earn some extra money. He took me under his wing and we have a great time training together. I will miss him next year when he goes to college (Ohio State).
WHAT ARE YOUR FAVORITE HOBBIES?
I like to be outside in the desert. We have a house in Alaska, so I love to hunt and fish and trap… and just be outside. I also like to snowboard after the season.

Click here to download the full January issue of Swimming World Magazine, available now!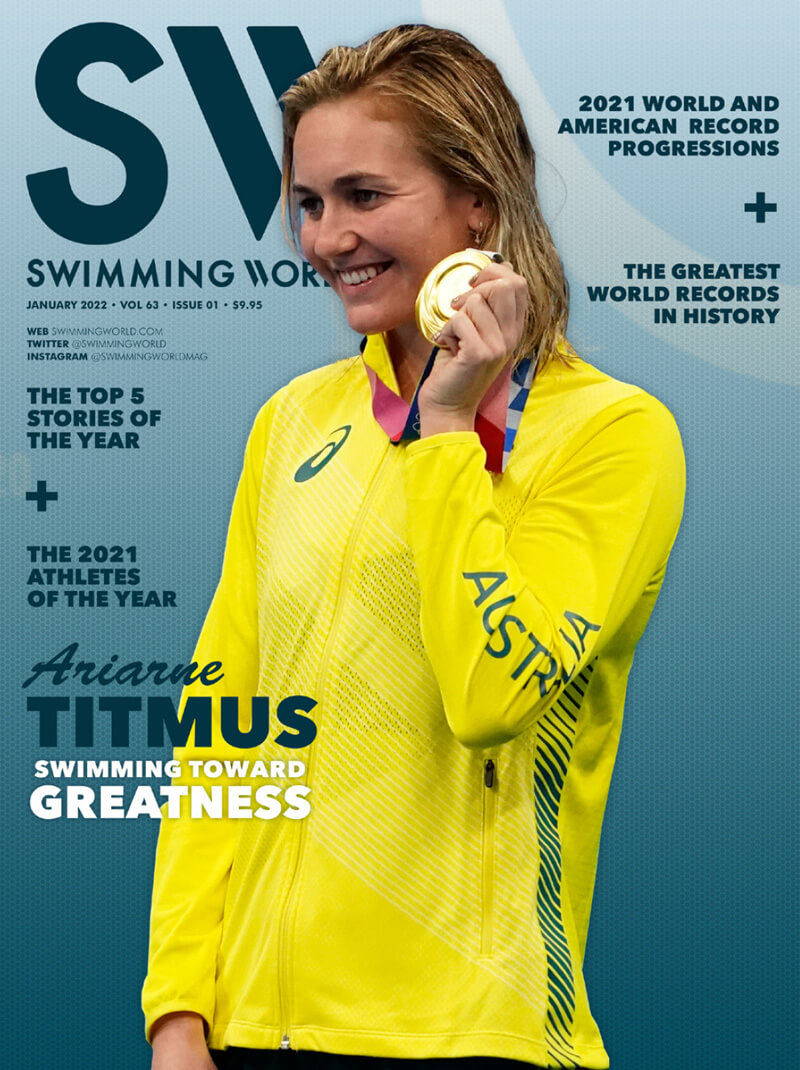 [Photo Courtesy: Robert Hanashiro / USA Today Sports]
To have Magazine of the swimming world and Bi-weekly swimming world FREE when you
Become a member of the International Swimming Hall of Fame
New! 30-day ISHOF membership AND Digital Swimming World subscription for only $ 10 per month!
Want more? Get a one-year ISHOF family membership with Swimming World Print AND Digital subscription
Order now!
CHARACTERISTICS
012 TOP 5 STORIES FOR 2021
by David Rieder
While the pandemic and its massive effects on sports were the only front-page story of 2020, the action in the pool returned to center stage in 2021. Unsurprisingly, the focus of the best stories in the world was year is centered on Tokyo, where the Olympics produced incredible performances and historic results.
016 ATHLETES OF THE YEAR 2021
by Dan D'Addona and Matthew De George
Diving: Shi Tingmao, China & Xie Siyi, China
Artistic Swimming: Svetlana Kolesnichenko & Svetlana Romashina, Russia
Water polo: Maddie Musselman, USA & Filip Filipovic, Serbia
Paralympic: Jessica Long, United States & Maksym Krypac, Serbia
018 WORLD'S GREATEST RECORDS IN HISTORY
by John Lohn
As the 2022 campaign kicks off, Swimming World has decided to look at the greatest world records in history. No, it's not a perfect science, but the eight recordings shown are – plain and simple – spectacular in nature and deserve all-time recognition.
020 ISHOF FUNCTION: REMEMBERING THE SUTRO BATHS OF SAN FRANCISCO
by Bruce Wigo
Located on the ocean side at the southern entrance to the Golden Gate of San Francisco Bay, the Sutro Baths, built in the 1890s by Adolph Sutro and eventually destroyed in the 1960s, were the world's largest indoor swimming facility in the world and one of the most amazing leisure and entertainment venues. complexes never built.
024 PROGRESS IN WORLD AND AMERICAN RECORDS 2021
by David Rieder
026 SWIMMING TO GREATNESS
by David Rieder
Australian Ariarne Titmus first defeated Katie Ledecky, the greatest long distance swimmer in history, at the 2019 World Championships. She repeated the feat last summer at the Olympic Games in Tokyo and now has for goal of achieving even more ambitious goals.
029 NUTRITION: COOLED TO THE BONE
by Dawn Weatherwax
Bone broth is a home remedy worth adding whether you live in a cold climate or a hot one.
034 MENTAL PREPARATION: BEFORE THE BEEP WITH MAX McHUGH
by Shoshanna Rutemiller
FRAMING
032 SWIMMING TECHNIQUE CONCEPTS: MAXIMIZING SWIMMING SPEED (Part 7) —OPTIMAL CUT CYCLE FOR BUTTERFLY AND FREESTYLE
by Rod Havriluk
A swimmer who takes full advantage of the propellant phase and eliminates wasted time on the non-propellant phase can optimize swim cycle time. This article presents the optimal times for the throttle and non-throttle phases of butterfly and freestyle with the corresponding expected performance improvements.
036 POST-COVID SWIMMING COLLEGE
by Michael J. Stott
College swimming coaches from across the country share their thoughts on how COVID has affected their sport.
042 SPECIAL PACKAGES: LETITIA SIM — THE DYNAMIC TALENT OF TNT SWIMMING
by Michael J. Stott
Coach Jan Mittemeyer shares a few sets he gave to Letitia Sim and her fellow senior swimmers at TNT Swimming in Daphne, Ala. Now swimming for Michigan, Sim was Alabama's No.1 2021 rookie and 15th nationally.
043 Q&A WITH COACH BRENT ARCKEY, SARASOTA SHARKS (Florida)
by Michael J. Stott
044 HOW THEY FORM THE EMMA WEYANT OLYMPIC SILVER MEDAL
by Michael J. Stott
COACHING
031 DRY TRAINING: READY, READY, GO!
by JR Rosania
With the New Year, it's time to think about what to expect and how to start preparing for the winter and early spring races. This month's drylands article focuses on drills for each shot and some explosive and core training drills.
JUNIOR SWIMMER
039 GOLDMINDS: THE ART OF SWIMMING
by Wayne Goldsmith
The key to a fast swim is to follow the leadership and guidance of the coach, but it is also important to choose and make the training special and unique just for you.
047 UP & COMERS: MAXIMUS WILLIAMSON
by Shoshanna Rutemiller
COLUMNS
008 A VOICE FOR SPORT
009 DID YOU KNOW THAT: ON OSCAR NORIN, WORLD HIGH DIVING CHAMPION?
041 THE OFFICIAL WORD
046 MOMS TO MEET: BETH CURTISS
048 WORD OF GOUTT
049 STROKE
Swimming World is now a partner of the International Swimming Hall of Fame.
To know more, visit us at ishof.org
Related